Transactional emails are different from other business emails because they do not need the permission of the recipient. The customers' activity on the business' website will trigger the system to send a transactional email, usually documenting that an order has been placed, a certain amount was deposited or a subscription has been renewed.
It is therefore used by brands and online businesses to stimulate customer engagement (notification emails), improve trust, promote their brands (automated emails) and increase sales (abandoned cart emails). Data shows that transactional emails have an open rate of 44.05%, higher than any other business email type and generate 6x more revenue.
Before taking a look at the industries that can drive growth with transactional emails, and if your business falls in any category, let's see how transactional emails are used. Most commonly, transactional emails are used for order confirmation (confirmation emails). You must have received an email confirming your order or purchase of a product at some point.
You can also get a payment receipt with the details of your transaction. If the transaction was unsuccessful, a transactional email could automatically be triggered to notify you and to provide relevant information on the next steps to take. Transactional emails can also be used to respond to urgent customer requests, such as requests for verification code or a password reset (password reset emails).
(If you want to learn more about this, don't miss our article 10 Perfect Use Cases for Transactional Emails).
Now, with the understanding of how transactional emails are used, here are five industries that can leverage the uniqueness of transactional emails to drive growth:
1. E-commerce
It is almost impossible to manage an online store without an effective transactional email strategy. It is very crucial in building trust and increasing customer retention.
From sending emails to customers that have abandoned a product in the cart to sending personalized order confirmation and payment receipt emails and to offering all the necessary information on the delivery of the product, transactional email strategy is at the center of any e-commerce marketing campaign.
Your customers can also stay updated with personalized and relevant information on similar and complementary products based on their purchase history.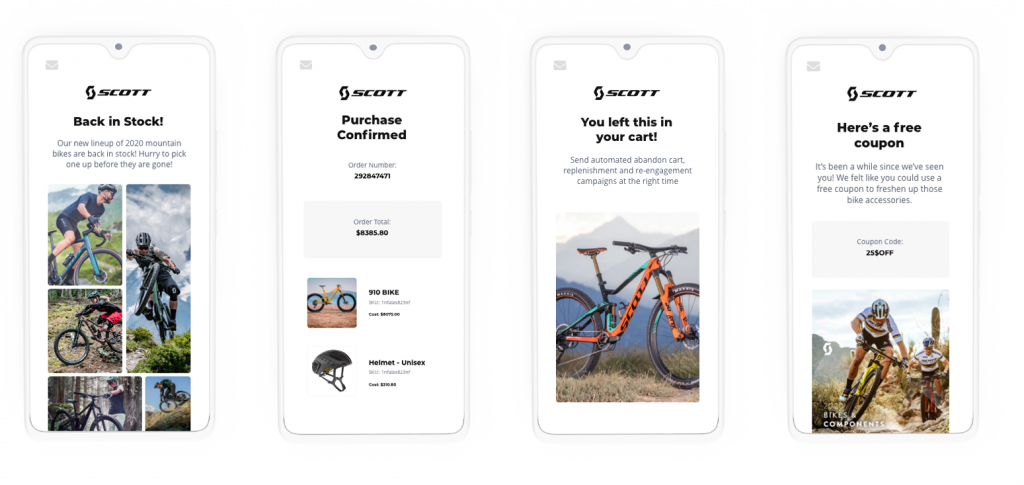 2. Fin-Tech
Financial technology is one of the most significant disruptive innovations in technology. One undeniable fact in Fin-Tech is the use of transactional emails to accelerate growth. If you are in the Fin-Tech industry, transactional (triggered) emails must be incorporated into the crucial points in the consumers' journey.
From onboarding, confirmation of financial details and the first transaction made to every single transaction that will be made, and other customers' activity that will require a triggered email.
Fin-Tech services can include helping customers to make payments online, send and receive money, save, buy and sell stocks, invest, insure assets, secure loans, etc. This industry can't afford to overlook transactional emails as a core part of not just their email marketing efforts, but the entire marketing campaign.
3. Software and Internet
If you are a software company, and you require potential clients to take action on your website, then transactional emails must be a part of your marketing strategy.
Software and IT (information technology) support companies such as Maropost (we provide a unified email marketing automation solution) use transactional emails for onboarding, payment confirmation, subscription renewal, and many more.
4. Education
You don't have to go to the mall to get what you need, we now have online stores; you don't need to go to the bank to carry out transactions, you can do that on your mobile phone; and now, we have several massive open learning online platforms offering the same programs as traditional institutions.
If you are in the business of helping people learn without the need to go to a physical place, then you want to consider transactional emails as a means of driving sales and more importantly, customer retention and loyalty.
When someone buys a course on your website, an automated system can send personified emails providing payment receipt and the essential information necessary to start learning.
5. Professional services
A professional service company does not sell any tangible commodity, such as a software or a course, but why is it on this list? These businesses offer services in support of other businesses. They include legal services, consulting, training, architecture, financial advisory, advertising agencies, etc.
Many of them sell directly to other businesses (B2B), but we can also have direct sales to consumers in other instances (B2C). Professional services can also use transactional emails to accelerate their growth.
You might not send out transactional emails as often as online stores do, but the same strategy can work despite the frequency. You don't have to determine when to send a transitional email once you have an automated process. With email automation, the system is automatically triggered by the activities of your customers.
Need to chat about your transactional email strategy?
More than 10,000 marketers use Maropost's JetSend to send, track and manage their transactional emails. We're here to help you growing your business!
Start Free